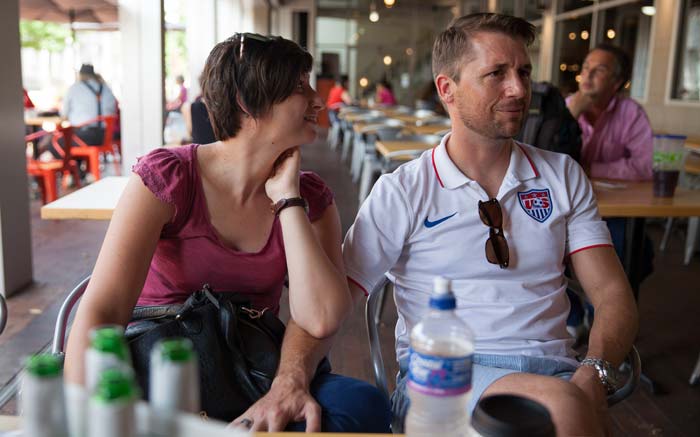 My friend Mike posted this today on Facebook: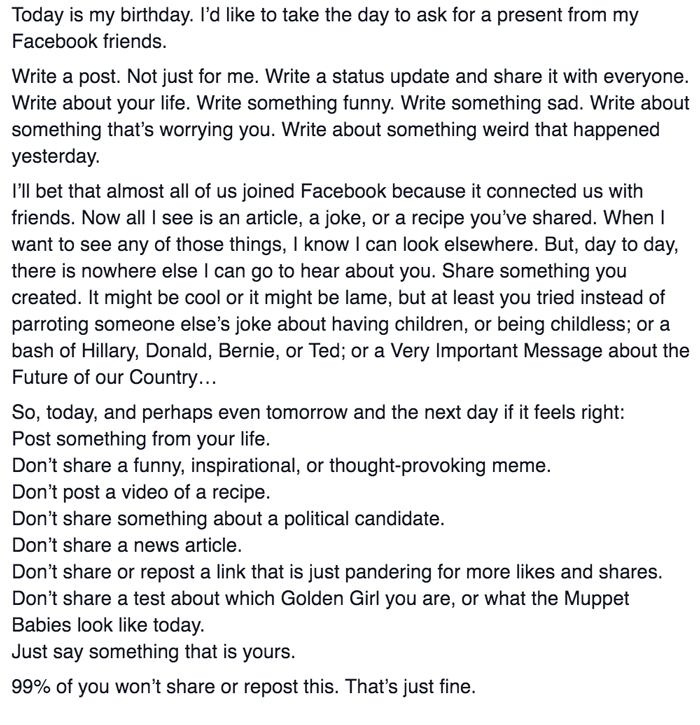 Perfect timing, Mike. I've been thinking lately about things tangential to Facebook. Blogging, time-wasting, privacy, permanence.
I really want to quit Facebook. Mike is right. I joined The Facebook because my friend Trucy told me I should. I used it initially to find out "What is the deal with so-and-so from my finance class?" Then I re-joined Facebook because it connected me with friends. There is still that huge value sprinkled in amongst a bunch of Slate articles. (It's no problem really, Erik.)
Principled Zach hates that Facebook, a private company, is the one in charge of this. Recognizing the value Facebook has created, I also realize that I had a good circle of friends rolling their own before Facebook came along. Back in the golden age, several of us were occasionally blogging, and it was awesome.
Blogging was a lot more cumbersome and sporadic. When I got Opera with tab support, I would open all my friends' blogs via a desktop shortcut and go through and most likely close each tab seeing that they hadn't updated. But occasionally, I'd recognize a new post and get pumped. I still love my friends, but I don't get that same rush when they share something on Facebook.
Facebook has made it a lot easier. There are so many ways to share something. There's even a Notes feature which all of One of my friends uses. The easiest are quick photos or article shares. Occasionally people write their individual thoughts or announcements, but in the middle of all the other Timeline fodder, it doesn't have the same curated feel as something like Twitter or Google Reader.
Just yesterday, I unfriended about 75 people. I had long since unfollowed them, but they were still just hanging out in my friends list. This was my first salvo in a concerted attack on my Facebook usage. I'd been considering my options on Facebook a lot recently. My first feeling is that I should just be allowed to quit it. I've done it before, and it was pretty sweet. It is still the most central source of connection with friends. Organizations, events and even potential employers sometimes exclusively operate out of there.
If I could get a pact from friends and events that they'd all provide reliable RSS feeds of Important Things Zach Needs To Know, I'd be off Facebook in a heartbeat. I'd pay extra in my taxes for a Socialized Facebook/Twitter that didn't need to offer other things just to pay the bills. Or in Twitter's case grasp at random things hoping it pays the bills. I'd love to see that idea floated around DC. I'd also love to see the Federal Government's variation of social media.
I ain't mad at Facebook anymore than I'm mad at myself. I know the value that exists within Facebook. I know the costs that come along with it. And I've sucked at managing the two. I could extract a similar amount of value out of it and spend way less time opening the app or Ctrl-T-"fa-"-ing. Unfriending 75 people isn't going to help. It might restrict a little more who's seeing my business, but I wasn't seeing their business anyway. I just need to show some modicum of discipline.
So this is my plan of attack. First I'm going to write more.
This has to be the topic of like 50% of posts on Wordpress. "Hi guys, I know I haven't updated in a while, but that's going to change." I have at least two of those. I'm adjusting my attitude a little on that. I used to think "Who cares?" Sometimes while in the middle of writing a long post. I'm doing that right now. Trust me.
But this time, I've decided I care. I suspect occasionally other people care. I'm going to leave that up to them. I will occasionally nudge people to something I feel a little more confident about or proud of. If they want to dig around and read shit like this, they can do that too. I'm not going to auto-post everything to Twitter. I'm not going to crosspost to Medium or worry about building up my klout or whatever. That should help me just create some things, even if just for myself.
Secondly, I'm going to do/build more. I'm focusing on building my own programming skills and a little bit of Arduino stuff too. I'll track that progress. Whether it's by listing courses I took or books I read or writing about a problem I ran into when learning something new. I'll write updates on certain projects. I have a lot of opinions on things like baseball and business, and I'll probably share those too.
Finally, I'm really going to try to use Facebook less. It sounds so simple, and I'm going to try to chip away at it.
On the flipside, I know I certainly care about other friends' writing more. And even if they posted longwindedly about their internal struggle with Facebook, I know I'd read it. Even if fisherpriceman.blogspot.com is no more.
There are some things I think of as bowties (though relevant, I'm not talking about these bowties).
Sometimes I think I should learn how to tie a bowtie. My only reward though would be that I was wearing a bowtie.

— Zach Sanderson (@zachsanderson) November 13, 2011
That's kind of how I feel about Wordpress. There's nothing wrong with Wordpress. It'd been running my blog for some time. I kept thinking I should dig into it more, but then I'd be learning more about something I don't really care about.
One thing that always seemed out of place for me was that I was using Wordpress/PHP to serve up static writing. I think I had 4 comments over about 6 or 7 years of Wordpress hosting. The fact that my server was recreating pages regularly (at least if anyone visited) was unnecessary. I kind of missed the good ol' days where I'd hand code my blog, frames and all. This was during the Bloglines/pre-Google Reader era; I ended up handcoding an RSS feed.
Jekyll basically takes me back to that except the somewhat dynamic aspects, like generating an RSS feed (do people still use those?), are handled locally in my Jekyll build process. Jekyll's one of those things that I was wanting the benefits of and unknowingly consuming from other people's sites for some time. When I took the Jekyll course online, I was just nodding my head the whole time. It all made sense.
I sat on that Wordpress 2014 theme, or whatever it occasionally updated to, forever. When I'd consider writing something, I'd open up my site and feel embarrassed. I also wanted more control over how I was presenting. My site was best set up for longer-form writing. Something that, if I did it, took forever to get out. Sometimes I wanted to just throw up some photos I took or document some project I've been working on. Wordpress would let me do that, but for my brain, Jekyll makes a ton more sense and allows me more control and speed. Control by itself would be a scary thing because I could spend forever making it "perfect", but in Jekyll, once my approach is set, I'm finding it easy to add on or shift the approach.
Future plans
Projects
Although I technically have a projects page, it's currently just a list of posts about projects. In the future, I'm going to set up that feed so that I can have project posts that are like parents and their child posts will be updates that show up in the feed but also tie into the original project post.
Besides being a more natural fit in how project/idea progress works, it will also allow me to talk about projects sooner. I could potentially post about a project/idea that doesn't even have anything to show but can start being talked about.
Photos
I currently have the same setup for photos. It's just a feed of posts that I create for each Flickr album that I upload. A lot of the time though, my Flickr feeds aren't really the main things I want to be highlighting. If I'm looking to pick up a photo gig, it would be better to point someone to a portfolio rather than 30 pictures of my cat.
I plan on building out the main photos page to focus a little more on portfolio-esque stuff and still allow for some of the feed stuff like Flickr and Instagram.
Other "feeds"
The way I currently have things setup, most content is being treated as a "post" but I have those separated into words, pictures and projects. This existing separation allows me to create further compartmentalization. For example: I'd like to easily track books I've read and training/courses I've completed.
Going along with my philosophy on this site, these feeds will be for my benefit. I know how the internet works so of course I understand that other people could potentially look at them. But I'm going to put what I want to see. I'll probably get more of a kick out of reading them a year later than anyone else will.
Hosting
I currently am hosting on A Small Orange. It works just fine but I'd like to streamline the updating portion. Right now I'm just moving files via FTP, but I may look into Github Pages.
Upcoming posts
Posting philosophy
Jekyll setup for featured posts on home page
Responsive images attempts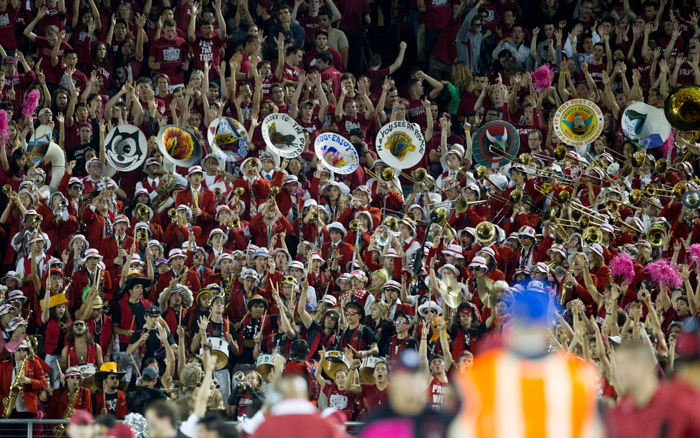 Here's your assignment: Make fun of Iowans.
That was Stanford band's goal for the Rose Bowl. Just as Iowa's football team's was to win. Stanford's band has had better performances and easier opponents, but they certainly accomplished their goal more than the Iowa football team did.
All of my Iowa friends are freaking out about their Rose Bowl halftime show, and I'm finding myself being the guy on social media explaining why I think something's funny. That's not fun.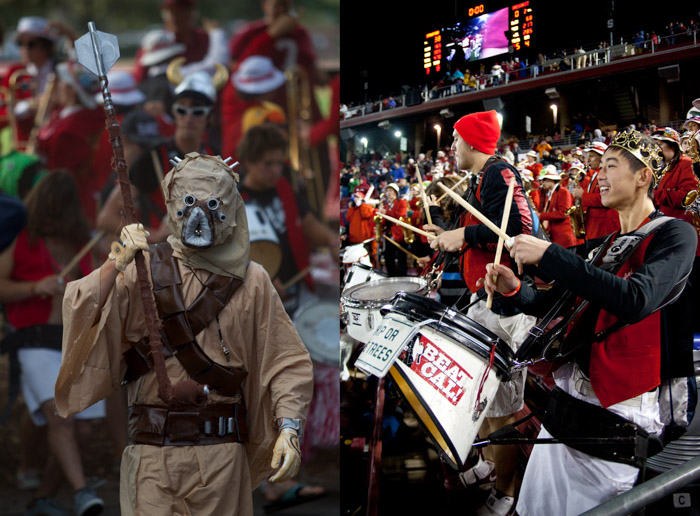 A few disclosures
I graduated from and worked for the University of Iowa. I was rooting hard for the Hawkeyes yesterday. Yesterday someone asked me where I was from and I found myself saying "Iowa". I explained I grew up in Cincinnati, but, for some time now, I've considered myself an Iowan. I did live in Palo Alto and was a photographer at Stanford. During that time, I told people I was from Iowa. They were probably pretty sick of me talking about how awesome Iowa was. I would talk about how much better our gamedays were than theirs. I was insufferable. I'm sure they just went back to their 72 degrees and baseball in February.
I also actually haven't seen the full Stanford performance. I haven't seen Iowa's either. Part of it is because the reports I've read say ESPN cut away because of the content. I don't really see proof that that is the case. I'm actually curious besides the Hawkeyes that made the trip if any of my other Hawkeye friends that are upset about it saw any more of the show than I did. Basically the gist I got was "They're making fun of us because we're farmers." If anyone has a full video, I'd love to see it. Because unless they take a dump on a Grant Wood at the 50 yard line or something, I don't really see where all the anger comes from.
UPDATE: I did find a script from the band's Facebook page. Seems pretty tame.
"They're not a good band"
While shooting, I spent a ton of time around the Stanford band. There are aspects that can be childish and annoying, but they are the best at it. I always appreciated the huge commitment they had to their job. As a band in the stands, I don't know of many better ones. I would love to see a compiled catalog of what they play. It's always pretty bleeding edge, especially for a format that is 100+ years old. They were the first band I've heard play "Black Skinhead" in the spots where other bands might play "Mars". (They play that one though too.)
They are at all the events and do their main job really well: entertain.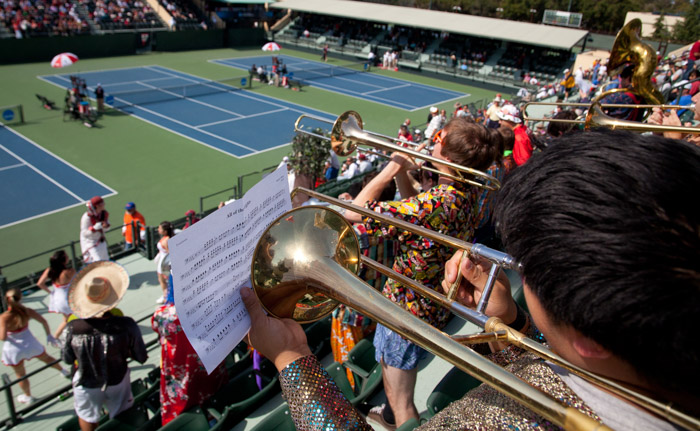 "Even Stanford fans were apologizing for them"
I saw this quite a bit at Stanford. I once saw a Stanford baseball player heckle the band as they went on the field at a football game. He was turning to those around him and saying, "We're embarrassed by them. We don't like them either." So I guess the folks that are mad at the band can find solace in that. Even Stanford hates them.
But when that baseball player is back at a game 10 years after graduating and hears "All Right Now" played after a touchdown, he'll probably get goosebumps.
"Iowa fans booed them off the field"
First, unless they stopped their show halfway through, that's not totally true. I'm sure they did boo them as they went off the field. And while they were on the field.
A few of my friends who were complaining about this are big pro wrestling fans. The Stanford band is playing the role of the heel. They were doing their job and Iowa fans were doing theirs: booing them. That's awesome. That's what makes it fun. I've always appreciated that guy who goes into pro wrestling and takes on that role. It's easier to be the hero. It's easier to just play "Bohemian Rhapsody" for the 100th time.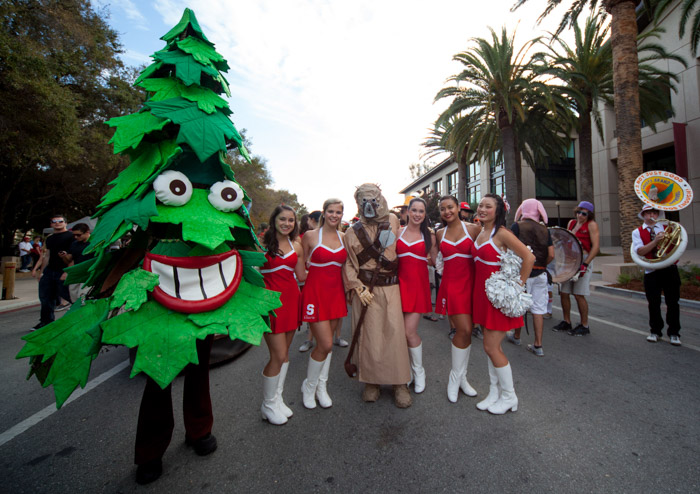 "Let's sic the Iowa Nice Guy on them"
Scott Seipker does a fantastic job of setting the record straight in a not-your-usual Iowan way. He's normally targeting reporters or politicians who are just missing the mark but a comedian arguing against comedy is a little different. Yeah "they're all farmers" is a stereotype. I'll admit it's a pretty lazy one. But Stanford's band works in stereotypes the way other artists might work in oils or clay.
It seems kind of weird to be upset about that though. Aren't there a ton of farmers in Iowa? Aren't Iowans like really really proud of that? So much so that we somehow get past NCAA rules to post a political statement on our helmets every game.
"We were already losing 35-0"
This is why most people are upset. At this point in the game, we were getting our asses handed to us. It may not have looked like it, but the band planned this show weeks in advance. I was really hoping they'd call an audible and come out and make a "35-0" formation. Maybe even dig into the Iowa band playbook and play a Journey medley. Or go edgy and play Michael Jackson. But they certainly weren't going to say, "You know what these poor people traveled across the country to see at least one point scored and they aren't getting it. Let's go easy on them." It would have been sadder if they felt sorry for us.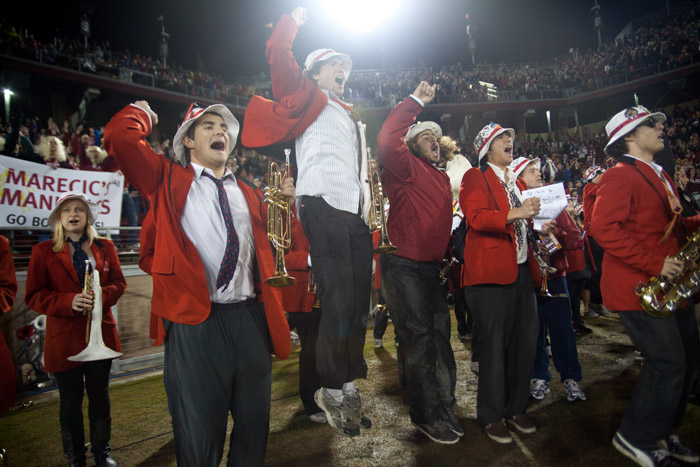 "Respect the Rose Bowl"
I've also seen a bunch of words that 60 year old Republicans use like "tradition" and "class" and "respect". That's what ends up offending me more. It's a football game that we are watching for entertainment. We're not going to get any points for having the least amount of fun.